The Transpac race from Los Angeles to Hawaii is becoming a family affair
The 2023 Transpacific Yacht Race wasn't a record-breaker if you check the top boat speeds and elapsed times. But from a relative standpoint, the race knocked it out of the park. The 52nd running of the Transpac race was a family affair, with dads, daughters, mothers, sons, siblings and spouses, the fleet was chock-full of kin competing with and against each other in the biennial race from Los Angeles to Honolulu.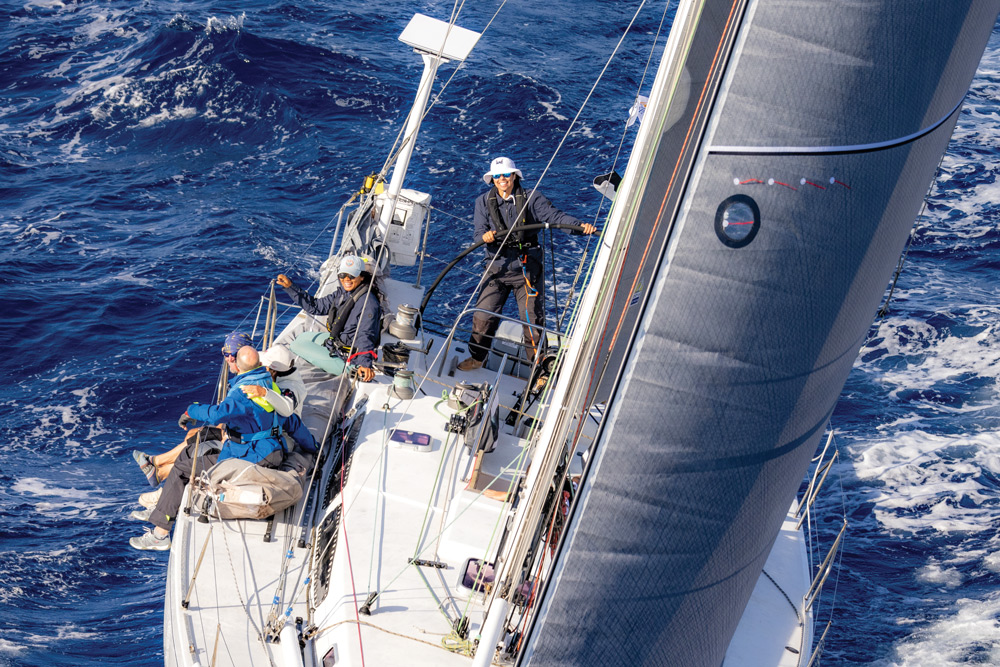 Sharon Green photo
Since the mid-1990s the Transpac has split entrants into three separate start dates with the slower-rated boats leaving first, the super-sonic multis and maxis four days later, and the 50-footers in between. Conditions were varied as the 55-boat fleet set off with the final start seeing dismally light winds, quashing hopes of breaking the elapsed time and other records.
But one category where the race did make a mark was the number of crews made up of family members, with more than three dozen teams containing some combination of kinfolk.
Doug Grant and daughter Kelsie sailed aboard Merlin and Marie Rogers and son Colin Willson on Good Trouble. From the decks of Pyewacket Benny Mitchell kept tabs on son Parker aboard Saga, while Saga's watch captain Holly Sweet Davis tracked husband Jay Davis on Rio100. Rock N Roll was practically a family reunion with John Sangmeister and sons Jack and Peter competing alongside Justin Smart and sons Cooper and Harrison. Even Giovanni Soldini had his nephew Matteo onboard the MOD 70 Maserati. In truth, there were so many generations on so many yachts, it became impossible to count them all.
Chris Messano is a longtime one-design racer, having done a lot of offshore racing in his youth. For his first Transpac he felt it only natural to bring along son Nick, 13, who is a solid Optimist competitor and sails on the family's Cal 20.
"I've done a lot of Mexico races but wanted to do the Transpac, and I wanted it to be special. So we bought a boat just for that purpose," Messano said.
He refurbished and tricked out the Santa Cruz 50 Deception at his Cabrillo Boat Shop.
"It was simply something I wanted to do, before I get too old. And with people who are talented, who you enjoy and trust," he said.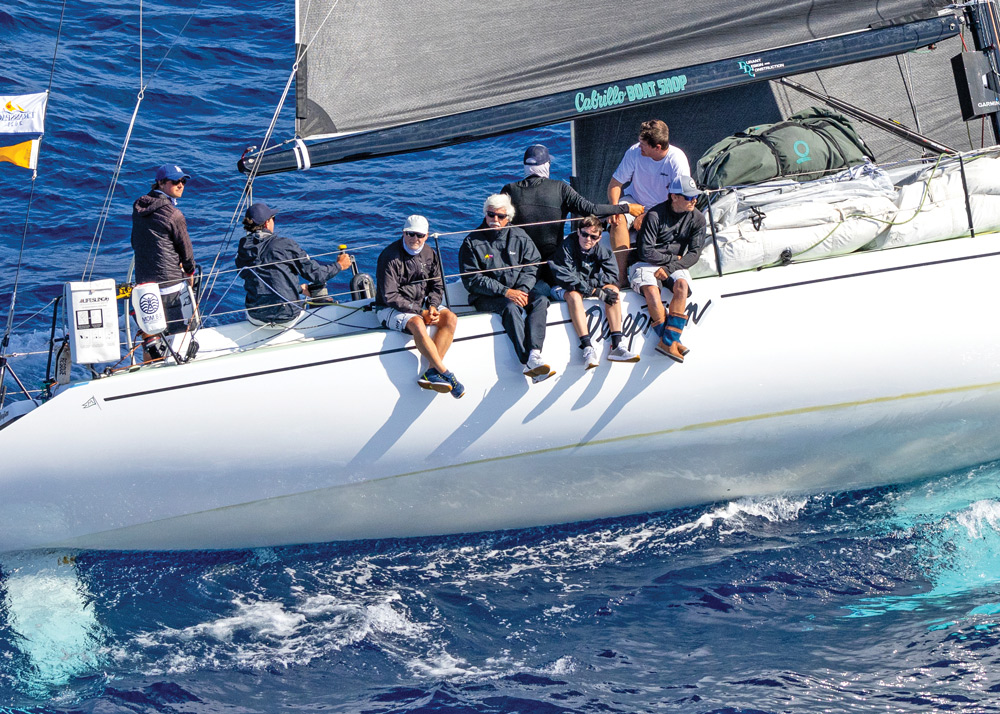 Sharon Green photo
Young Nick was up to the task, he said, helming the boat in 20-plus knots of breeze, experiencing both the laughter and tension that crop up on a nine-day race.
"He did great, and I really loved it. I so enjoyed our time together. To expose my son to that culture was magical," Messano said.
Messano said Nick has caught the bug too, and they're already agreed to do Transpac 2025. Racing in the highly competitive Division Five, Deception, co-owned by Bill Durant, finished second to Dave Moore's SC52 Westerly, which also won first overall.
Of the 55 entries in this year's event, five boats turned back due to various equipment failures and injuries, including one requiring a medical evacuation from 150 nautical miles offshore. Doublehander Jerome Sammarcelli suffered a severe laceration requiring the United States Coast Guard to pluck him from the Carbon 32 Sam, leaving co-skipper Ben Kaliwoda to sail back to Marina del Rey solo.
Racers reported the first leg of the course was uncharacteristic in wind direction, overcast skies and cooler temps, forcing crews to wait for the usual crack off and run to Hawaii. But once conditions normalized Transpac delivered, and it was breeze-on in the Molokai Channel and final run to the Diamond Head finish.
Division One Winner was Doug Baker's Peligroso, coincidentally with Durant's son Dustin crewing. Division Two was won by the Reichel Pugh 51 Zero Gravity.