A wildfire fueled by 60 mph winds swept down the hillsides of Maui August 8 and turned the seaside town of Lahaina into rubble and ash in a few short hours. The fire killed more than 98 people, and 10 people were still missing in October. The historic Lahaina Yacht Club was one of the last buildings to burn as the fire reached Front Street and the ocean.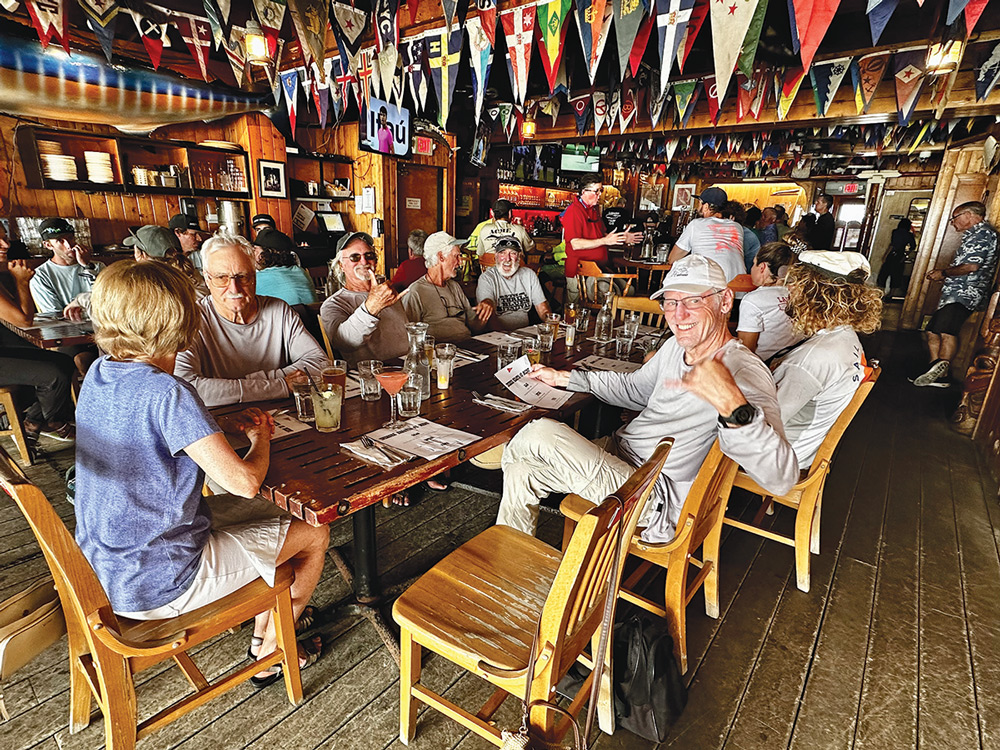 Lori Fisher photo
Founded in 1965, the club was a bustling place in the city of 12,000, with an active youth sailing program and a popular restaurant. It is co-sponsor of the Vic-Maui International Yacht Race, the popular biennial transpacific race from Victoria, British Columbia, Canada, to Hawaii. The eight moorings just outside the harbor are its only remaining possessions.
For centuries, Lahaina Harbor has been a shelter from strong trade winds, and was established when whaling boats moored in its leeward protection. Because of the ships, Lahaina became a haole (foreigner) town, but originally it was the Hawaiian capitol of kings, of Ali'i. Lahaina, known for its beauty, is named, in Hawaiian as "cruel sun" for its many days of sunshine and summer heat.
"Before the fire, the 58-year-old club and building had oodles of charm, and years of nostalgia," said Kelli Lundgren, a Lahaina resident and member of the club. "Given the usual perception of yacht clubs, we were an otherwise scrappy club without a lot of amenities or niceties. You could walk in dripping wet from the ocean, or wear your favorite slippas to dinner. You could join for $600 yearly membership."
Swinging saloon doors greeted members and guests upon entering the club. Hanging from the rafters had been hundreds of burgees from yacht clubs around the world. Below the club's burgees, trophies had stood proudly in the glass case by the bar, a stairway hatch led into the ocean, oceanfront seating offered chairs with plaques dedicated to donors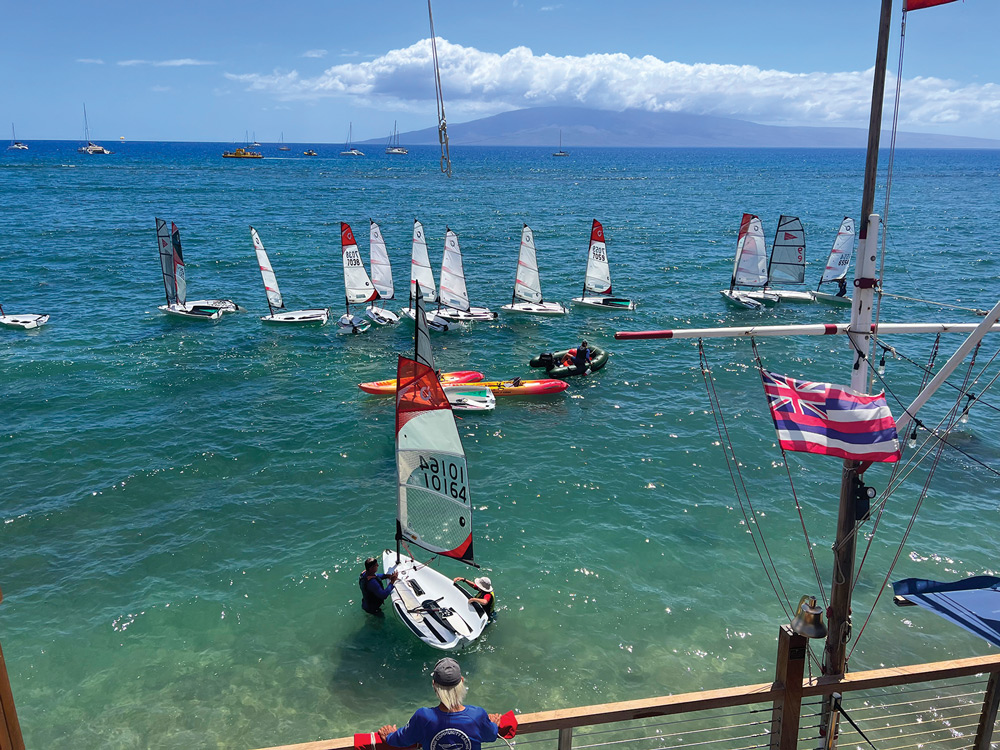 Lori Fisher photo
Bic sailboats used for junior sailing classes had been stored upstairs in the club. Volunteers used a crane to lower them into the ocean each day for the young sailors. The club's raceboat, an Olson 30 named Lele ("to fly") that participated in the many Saturday sailboat races, now lies underneath the harbor's surface.
"My local friends, many who are seasoned sailors who stopped their ocean journeys to reside on Maui, happily volunteered to teach and support junior sailing. Portraits of the students and staff were mounted on the walls," Lundgren said.
On the day of the fire, the high winds caused power outages and waterspouts, and most of the commercial catamaran and fishing boats stayed in the harbor because Hurricane Dora, 700 miles south and moving west, put Maui in its northwest quadrant of forceful winds. Many sailors scrambled to secure their boats.
"I kept worrying about our boat Lazy Daze, a 26-foot Seaward RK day-cruiser, in Lahaina's harbor. I parked next to the historic banyan tree and I saw debris, including cardboard and other material, circling 100 feet in the sky," Lundgren said. "I jumped onto Lazy Daze at the south end of the harbor, tightened her stern line, checked her fenders, and lowered the outboard motor further to keep the propeller low in case any boats broke free and crashed into her. That's when I saw the smoke uphill."