An old sailboat and Old Glory dignify a powerboat parade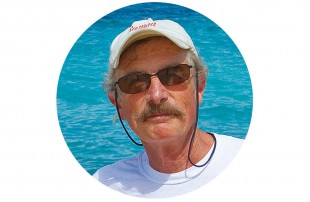 Some of the prettiest miles of the 3,000-mile-long Intracoastal Waterway are those between Gordon Pass and the tip of Keewaydin Island in southwest Florida.
This 10-mile stretch is a natural waterway embraced by mangrove forests, separated from the Gulf of Mexico by the long and narrow and mostly wild Keewaydin Island.
It is home to an eclectic assemblage of wildlife. Dolphins are frequent escorts of passing boats. Osprey families reside in nests atop channel markers. Bald eagles roam the sky. Wading birds hunt on the mangrove shore.
It is also a liquid freeway, traveled daily, and especially on weekends, by swarms of powerboats. Among them, besides a few prosaic fishing craft, are pontoon boats and runabouts rented by tourists, plush cruisers and, in large numbers, center-console, outboard-powered boats that were designed for offshore fishing but on this leg of the ICW are the go-to boats for joyriding and showing off.
They're worth showing off—these are handsome yachts—and evidently there is joy aplenty in throttling up the outboard arrays on their sterns in the ICW speedways (30 mph speed limit) between manatee zones.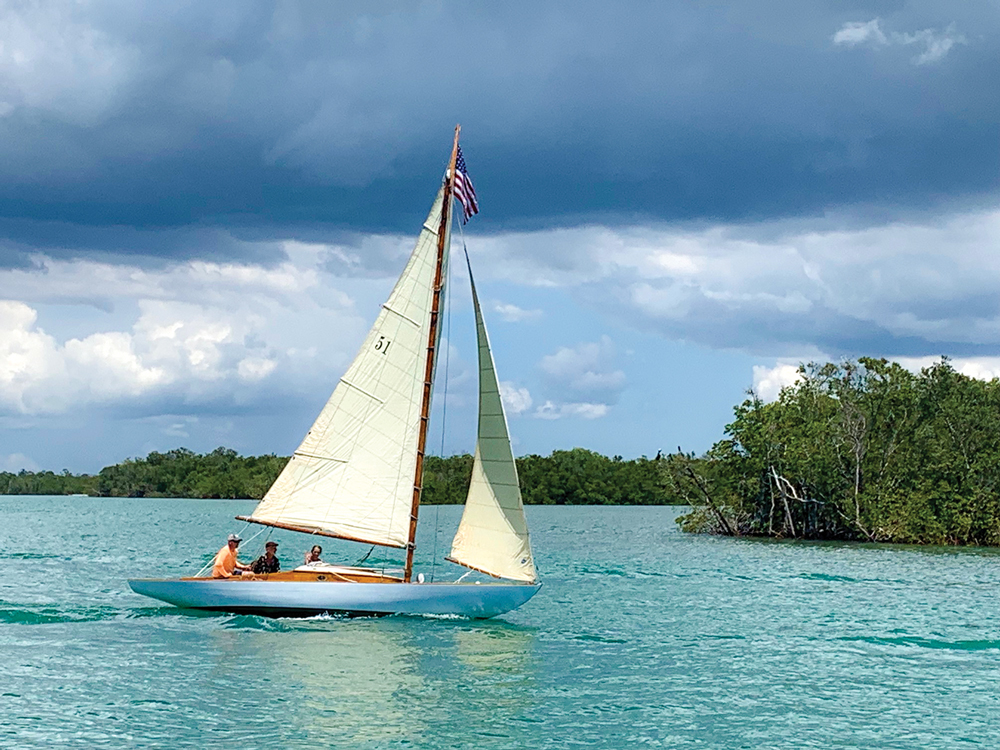 Photo by Alan Reynolds
Owners seeking to stand out in this parade compete in an arms race to see who can mount the largest number of outboard engines on their transoms. Anything less than four on, say, a 35-foot boat (1,200 horsepower or more) does not qualify.
If you're wondering what this has to do with sailing, well, I'm getting there.
This is merely background, or considering the decibels produced by all those engines, background music for a sighting on these waters in late spring that warmed a sailor's heart.
It was, of all surprising things, a sailboat under sail, reaching up the channel near Gordon Pass. From its elegantly proportioned, low-freeboard hull rose a tall wooden mast supporting a jib and a very large mainsail—a gaff-rigged mainsail. The boat was an Eastern Yacht Club 17 gaffhead sloop. More than a century older than any boat likely on the waterway that day, it was built in 1911.
The boat is owned by Joe Bonness, a transplanted Great Lakes sailor living in Naples, Florida. Bonness has sailed and owned fast racing sailboats, but his sailing now is focused on the classic American sailing yacht he has restored to the beauty it exhibited when it left the Boston shipyard of its famed builder, George Lawley & Sons, 112 years ago.
The beauty of the boat named Whim derives from lines drawn by Edwin A. Boardman that accentuate the wood-planked hull's graceful overhangs. From its sharp-entry bow to its shapely counter stern, the boat is 27 feet long, but it has a waterline length of only 17 feet. There is a cuddy cabin, but it is so streamlined that it takes nothing away from Whim's graceful profile.
Whim was designed to be a racing boat, and its fin-keeled underbody makes her as much a sprightly performer today as she was on the Eastern Y.C. race course at Marblehead, Massachusetts, in her early days. She looks the same as well. Bonness had sails made of modern fabric that replicates the off-white color of the cotton sails the boat once carried.
There was something else remarkable about the sight of this historic sailing yacht that heightened its contrast with the modern waterborne machines plying the waterway. Whim sailed with the American flag displayed exactly as nautical flag etiquette has prescribed it for centuries—stitched to the leech of the mainsail at the peak of the gaff. The size was in line with the recommended one inch of flag width for each foot of boat length.
The protocol for powerboats, as well as for sailboats that do not have a flag attached to the mainsail, is to display the 50-star American flag or the yacht ensign on a staff at the stern.
Many flags fly from powerboats on the southwest Florida ICW. I've seen them on staffs sticking up from bows, attached at various points along the rails, stuck into fishing rod holders and affixed to center consoles. The flag staffs on a few of these boats look more like stout poles. I guess they have to be—because the flags are enormous, more easily measured in feet instead of inches.
Perhaps the fliers of these tarp-sized flags think patriotism is measured by the square foot. Or maybe (he said naively) the oversized flags are waved as a political statement. I mention that possibility only because I have seen several boats that pair their huge American flags with banners emblazoned with the F-word in bold capital letters in reference to the current president of the U.S.
I know that preaching flag etiquette at a time when the etiquette of basic human civility is in question is a windmill-tilting exercise. Still, a national symbol as beautiful as the American flag—beautiful in both the democracy it represents and in its stirring design—deserves the respect shown by following the traditions of proper display.
That is especially true on boats and ships, which through history have had the special honor of showing the national colors at sea and in ports of call.
Whim reminded me that there are few more glorious ways to do that than on a gaff-rigged yacht with the brilliant patch of red, white and blue waving exuberantly from the leech of the mainsail.