A pair of friends sail a small catamaran across the North Sea to explore the wild coast and climb mountains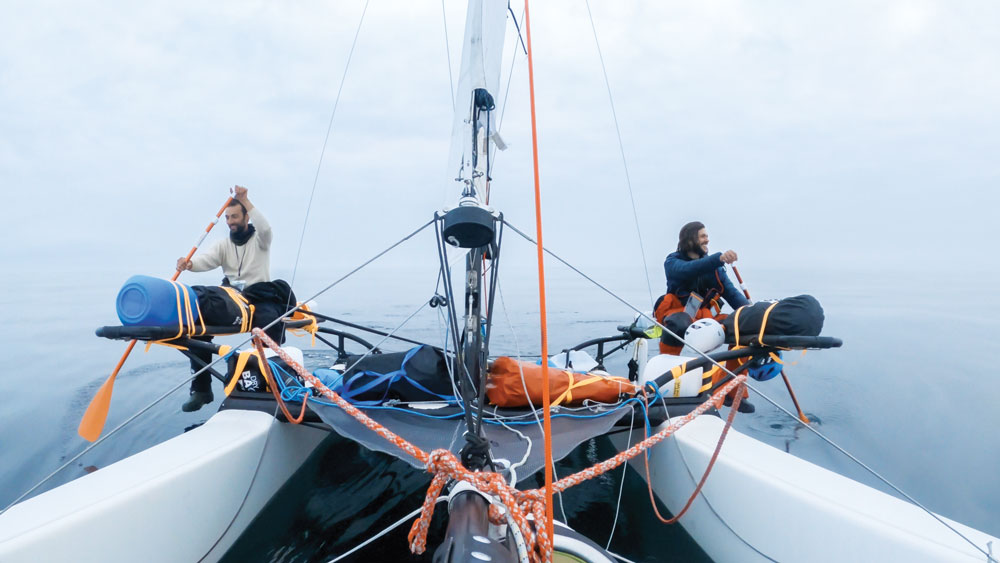 Nicolas Marcillaud
In the distance toward the west, a pyramid of perfect proportions protruded. It was black and white, always wrapped in a modest veil of mist, snow and sun. Soon, it was the only thing we could see. It was difficult to estimate the distance, and we guessed it was 20 miles away as the crow flies. The charts were too imprecise to identify it with certainty, but we could see it and that was the important thing. The rest was logistics.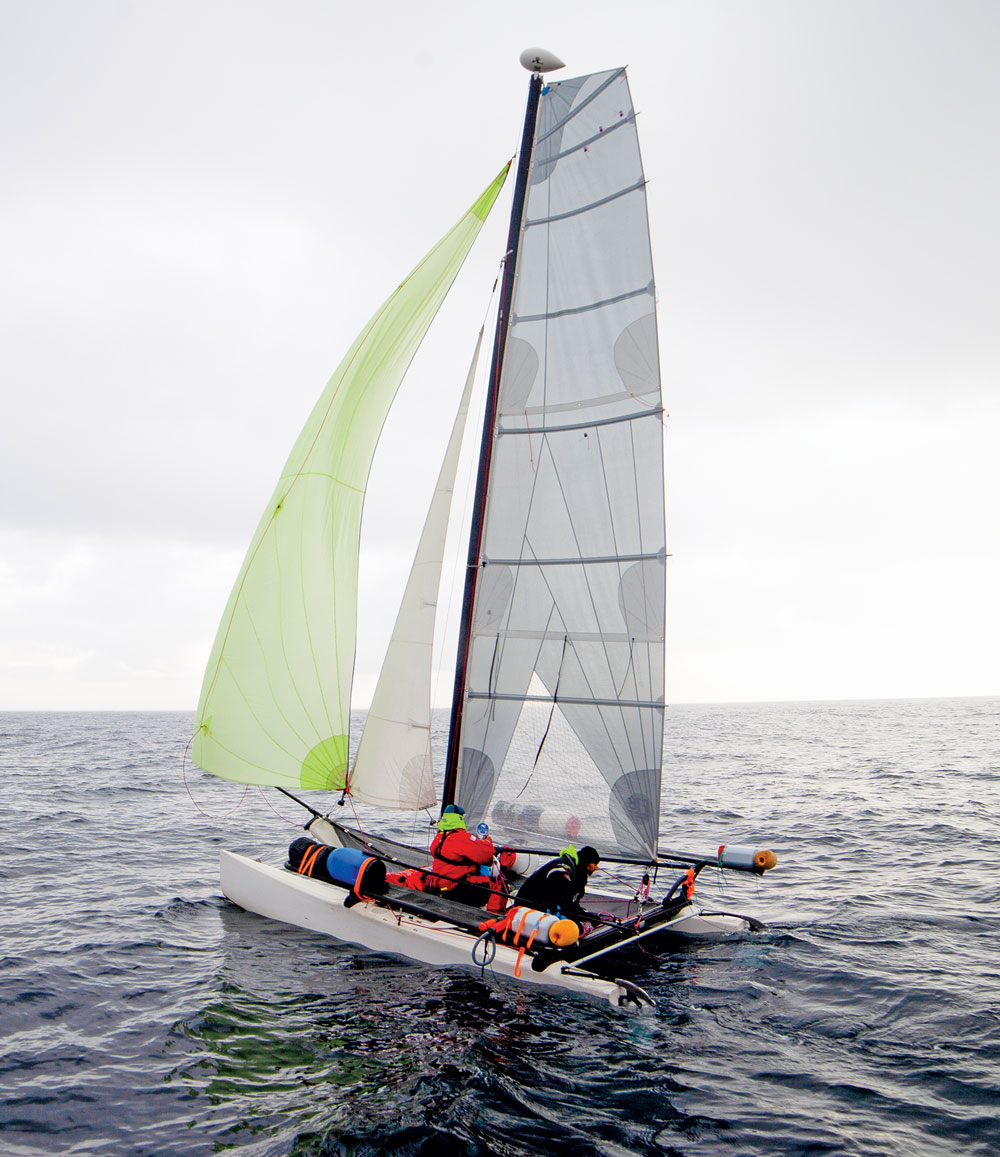 Nicolas Marcillaud

The next day, we repacked our gear, paddled across the fjord, left Sedna and headed off in its direction. The glacier that led to the mountain began to slope upward, a mixture of ice and rock, punctuated by streams. In the evening, when we pitched our tent, we worried about Sedna, left alone. The layout of the beach did not allow us to land her off the foreshore as we would have liked. Every high tide she would float and precariously close to the jagged rocks. The mist that surrounded our bivouac prevented me from seeing the sky but the absence of wind reassured me that the weather was good.




In the morning, we set off again. On this glacier, crevasses were numerous but most were visible. Below, the clouds hid the fjord and it began to snow. My field of vision eventually narrowed to the dark rocky wall and the uniform white of the glacier blending in with the sky. We lost sight of the mountain top as we climbed over the cliff, and without landmarks, it was if we were walking in a void.




My steps sank into the snow and I stopped for a moment. Behind me, I heard Tom getting impatient.




"Do you want me to take over for the finish?" he said.




It was already late afternoon and we didn't seem to be making much progress. Tom took the lead and we continued. And then suddenly we were surprised to find ourselves at the foot of the mountain. And we discovered that behind it, there were other mountains. Everything was huge and endless.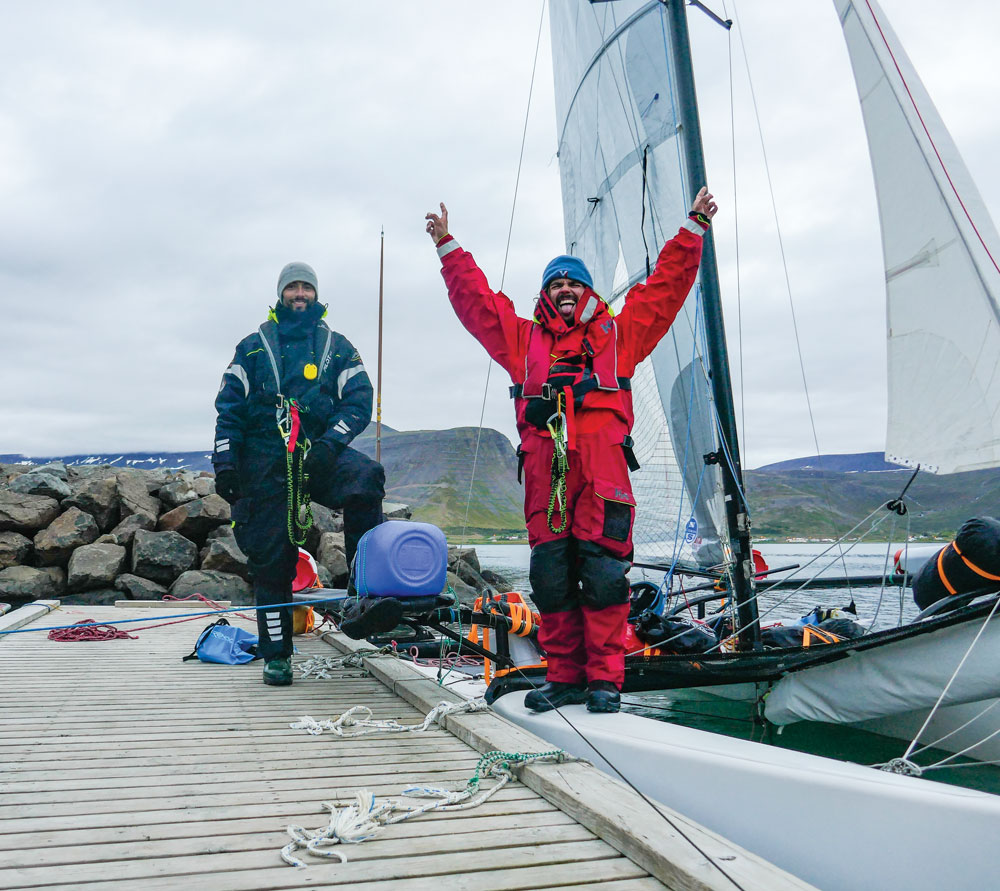 Nicolas Marcillaud
Our strategy worked well and we used it several times—raids of a few days in the mountains, punctuated by sailing passages through the fjords. Ten days later we landed on an ice-covered beach, breaking the bowsprit which we fixed with walking sticks.
The final morning, we pushed Sedna into the water amidst the brash ice, and we headed out to sea. The nights were getting longer and autumn weather depressions would soon follow so we had to take advantage of the weather window that was open to us.
We returned to Iceland with having proved it was possible to voyage on a small sailboat through the North Sea. It brought us a sense of accomplishment and opened up a field of incredible possibilities. There are more remote places yet to explore.