This beautiful daysailer will be created by build-it-yourselfers
I was cruising around on Facebook one day and I saw a boat that jumped out at me. It was a great looking boat and very nicely drawn. Clearly the designer had some well honed skills and a good eye for what it takes to make a good looking boat. Maybe a good design teacher can teach you to have an eye. Maybe. I think you either have the eye or you don't. When I choose interns to work with me I look for a student that shows he has at least the beginning of a good eye. I can work with that and hopefully refine that skill.
The designer of Ollie is John C. Harris, managing director of Chesapeake Light Craft. I've seen the Chesapeake Light Craft boats at several boat shows over the years, including the Port Townsend Wooden Boat Festival. I always stop and admire them, but I was not aware of who designed them. Now I know. It's John.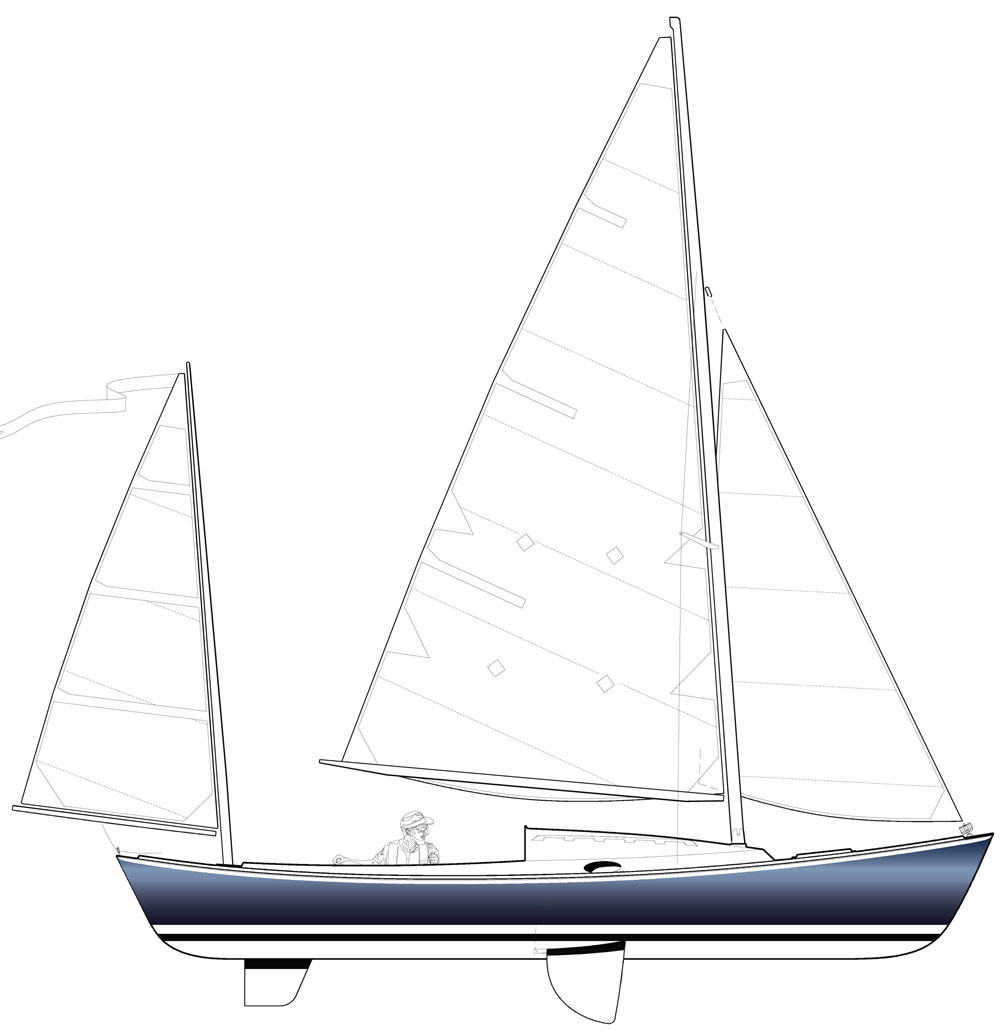 While I admire the boats, I don't stop for long because I have one basic, personal problem with them. They are designed for the home builder, with kits offered for most of the company's models. Home building leaves me out. I have no skill with tools, and it's even worse than that. I am tool phobic. Hand me a saw and I'd break out in a fearful sweat. I like to be able to erase my mistakes. But if you have the skills needed it looks to me like the kits are very well prepared and focused on ease of construction. Ollie is not available as a kit but the plans will be available soon.
Why did I like this boat? It reminded me right off of the William Garden design June Bug, a 19-foot single chine, flat-bottomed, double-ender design for the amateur builder in the late 1950s. Bill's inboard profile drawing for June Bug showed a guy below, wrapped in his blanket, wearing a stocking cap cradling in his arms a bottle with XXX written on the label. Bill was the master of breathing life into his drawings.
Neither Ollie or June Bug are serious cruising boats because they are simply too small. But you could cruise Ollie so long as you didn't mind being a bit cramped. But these boats do get you dreaming, "What if I?"
Ollie's inspiration came from a Phil Bolger design Dovekie that John had pined for in his youth. John took the Dovekie concept and designed his version. I have a beautiful set of lines showing a strong sheer spring complimented by the double ended hull form. Note how the sheer jumps up in the ends. You need to do this with a double ender. The amount of sheer spring you need has to be commensurate with the linear length the sheer travels. If you don't do this, and most designers don't, the sheer will appear to drop off in the ends. This can result in the dreaded powderhorn sheer in some cases and a just plain wobbly sheer in other cases.
To get stability John has given Ollie a very firm turn to the bilge. The bottom is essentially flat for a board-up draft of 7.5 inches and board-down draft of only 29 inches. There are twin centerboards outboard and the rudder is retractable. Be warned, the limit of positive stability is 90 degrees. Go beyond that and you will get very wet. This boat needs to be sailed like any other nonballasted boat, like a dinghy. In fact, Ollie does have 700 pounds of ballast in the centerboard. The ends are fine with hollow waterlines in the bow and in the stern. It's a very shapely hull. I'd bet a healthy skipper could probably row this boat quite well. Displacement is 2,704 pounds.
Ollie's accommodations are minimal. The flat bottom makes for plenty of cabin sole where you could stretch out and sleep comfortably. You could even sit up if you stayed aft. There is no centerboard trunk in the way. The twin centerboards are all the way outboard where they don't intrude into the "living space." There is plenty of volume below to stow your gear in bicycle pannier bags hanging from the longitudinal shelf. There is a generous anchor locker forward.
Ollie is rigged as a yawl to keep the center of effort low to help with stability. No question the yawl configuration suits the look of the boat very well. This will be a very photogenic vessel.
So many kit boats designed for amateur construction appear to be designed by amateur designers. When you put your time, money and effort into building Ollie you will have a boat you can be proud of, and a boat that will enhance its surroundings. People will row by in their dinks and say, "What is that?" I like that.
This will be the perfect daysailer for protected waters, maybe a lake. It will be easy to tow and easy to launch and rig. It is a very versatile design. Think of the fun. And you built it yourself.
Thanks John for sending me this very interesting, beautifully designed boat. It's comforting to see that creativity in yacht design is still alive.
---
LOA 19'; Beam 6'; Draft boards up 7.5", boards down 2'5"; Displ. 2,704 lb.; Sail area 207 sq. ft.
Our best estimate of the build-it-yourself sailaway price
---
Chesapeake Light Craft
1805 George Ave
Annapolis, MD 21401
410-267-0137